The Dive Center opens daily at 7:00 a.m.
Daily Dive Trips - Two tanks
Dive boats leave at 8:30 a.m. (weather permitting) from out docks. Be ready at 8:15 for boarding.Two dives are made each morning and arrive back to the resort in time for lunch around 1:00 p.m.
Afternoon Wreck Dive - One tank
At 3:00 in the afternoon we make a special trip to the wreck of the Felipe Xicotencatllocated very close to the resort on nearby Tormentos Reef. This vessel was a mine sweeper for the U.S. Navy during World War II.
Twilight Dive Trips - Two tanks
About an hour before sunset the coral reefs come alive as some fish prepare for their nights rest, while others take advantage of the low light to feed. You can experience the dusk dive on our two-tank dusk dive trip, one in Palancar Reef and one on Tormentos Reef.
Night Dive Trips - One tank
If you think the reefs are beautiful during the day, wait until you see them at night! Boat night dives are scheduled on Mondays, Wednesdays and Fridays or upon request (minimum of 6 divers). Shore night dives can be done any night right in front of the resort.
Wreck, twilight and night dives are at an additional cost and are not part of the RMD Packages.
Unlimited Beach Diving
You'll find great diving right off shore from the resort. You can check out tanks from 8:00 a.m. until 5:30 p.m. More info about shore diving.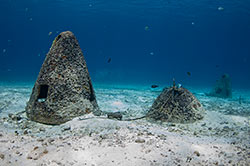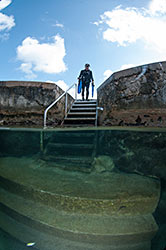 The Dive Center closes at 6:00 p.m. daily.