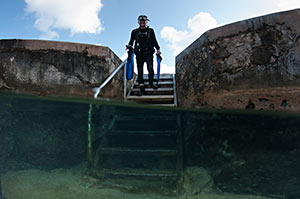 For those divers who can't get enough of Cozumel's undersea life, shore diving is always available just a few steps from your room.
The jagged ironshore limestone wall gives refuge to many juvenile reef fish, lobsters, crabs, octopi, and even an occasional seahorse — great for macro photography.
Depth is about 15'-25' and access is easy from either of the piers using the specially built stairs, complete with handrails.
A very easy exit is found through a tunnel, that leads to a waist deep saltwater pool and a short staircase up to the deck. Night dives here are fantastic, offering unique and memorable creature encounters.
Make sure you check out our photo gallery to see some of the critters photographers have captured right in front of the resort in our Best of SCC Shore Diving gallery.