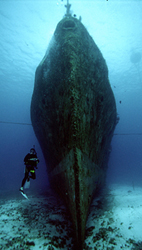 Originally built in Tampa at the Wilson Marine Shipworks in 1944. Measuring 184 feet long, 33 feet wide and 40 feet high from keel to the top of the super structure, this ship was put into service as mine sweeper for the US Navy as SCUFFLES.
In 1962 she was sold to the Mexican Navy, converted to an Admiral Class gun boat and named and numbered FELIPE XICOTANCATL C-53. From 1962 to 1999 she patrolled the Gulf of Mexico and the Mexican Caribbean sea serving in rescue missions and patrolling for illegal arms and drugs.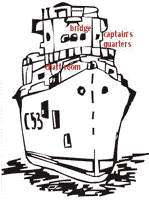 After 55 years of service C-53 was decommissioned and later donated to Cozumel underwater park. C-53 was sunk in 1999 in 82' of water just off shore from Chankanaab Park
154 feet (56.3 mts) long
33 feet (10.10 mts) wide
40 feet (12 mts) high
Displacement: 1000 tons
Want to explore sunken ships, crashed planes and the lost treasures beneath the surface? Then the PADI Wreck Diver program is just what you want. You'll learn the planning, organization, techniques and hazards of wreck diving. Preparation and use of lights, air supply, special equipment, penetration lines and reels. Limited visibility techniques and emergency procedures. Must be a PADI Advanced Open Water Diver and be at least 15 years old. This course and others are available through Scuba-Cozumel 5-Star Training Center.